I performed 'A Robinson Crusoe of the Soul' for ten dates over two weeks at the Edinburgh Fringe. I described it as 'dirty, noise opera'. A messy mix of sound, prose, music and nonsense. A solo show I wrote, produced and performed on my own, as stupidly arrogant as this may have been. I write this now it's over, knowing now how blissfully unaware I was of how difficult it would be. The orgnaisation alone, from booking the right venue, to ensuring I had enough twenty pence pieces in a jam jar for the parking meter, was enough to have me crawling around on all fours slobbering. But these were things I knew about. What I could not have forseen were things like the entrance to the venue car park being blocked by a laundry van and there being nowhee else to park. I could not imagine how something I had run through over and over again – setting up my equipment, making sure all cables and connections worked, tuning instruments, sound checking, would be so much more difficult when the previous performer overran. With seconds to go before my audience was shown in, I would still be making final adjustments, unsure everything was working, the venue humid, my head, face, body, sweltering, pouring with sweat. And this was before any performance began. A performance is the tip of an iceberg, in this case an iceberg that is melting at a furious rate. What the audience don't see is the huge amount of preparation, the years of writing, composition, organisation, and particularly, last minute, frenzied, furious mayhem.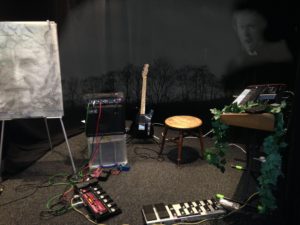 Ten shows on I am pleased how well I did, how few mistakes I made, how little went wrong. It was not a great show, but I carried it off. I survived. I got some great reviews from audiences, from complete strangers who had just wandered in out of curiosity:
'Passionate, magical, beautiful, intimate and quite astounding. I'm very glad I didn't miss this gem of theatrical, musical, crazy genius. A wonder indeed.'
(Sally MacLean)
'A beautiful and gently captivating one-man show. It uses layers of live sound and storytelling to tell of the life and inspiration of the author Machen.'
(Paul Fricker)
'A beautifully realised and moving account of the life, creative processes and philosophy of the great Welsh mystic and writer. A must see (and hear) for those interested in the pastoral origins of Britain's weird tales.'
(Paul Johnston)
And then there was one negative, almost hostile, response from a professional reviewer, who I shall not name, who suggested audiences would have felt 'short changed' when my show ended ten minutes earlier than I had assumed (shows were of varying length because so much was improvised). No audience member complained that my show was too short, although one gentleman walked out because it was too loud. I received no negative audience feedback at all. Yet this reviewer (who didn't pay for his ticket) managed to taint my (maybe  unwarranted) pride at having pulled off what was a gargantuan task. Just finding somewhere to park, to load my gear, climbing up and down two flights of stairs three times a day, to load the car, then getting to the venue unsure of whether I could get my stuff out of the car and inside on time, every day, was self-inflicted torture, and enormously demanding even without having to give everything to the show. But it is done. Maybe I'll perform it again in a few months. We'll see. I'm a wreck.