The Hershel Museum sits in a quiet street of terraced houses just outside the centre of Bath. I've passed it many times, seen the modest plate that marks it. In the back garden of this house, in 1781, William Hershel, musician, church organist, composer of symphonies and amateur astronomer, discovered the planet Uranus. Hershel was from Hanover, but left his home to escape conscription and was soon joined in England by his sister Caroline. The reigning monarch, King George III, was also from Hanover, so Hershel wanted to name his new planet George, or 'the Georgian Star'. Despite not succeeding in this, the king appointed Hershel his court astronomer, and in the years to come, Hershel was to build a telescope, in Slough, so huge that it remained the biggest in the world for fifty years.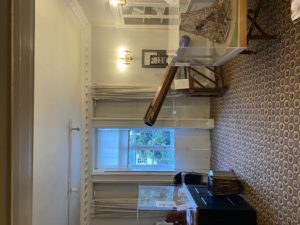 The discovery of Neptune, in 1846 has, to some extent, obscured Hershel's achievement, and minimised the profound effect it must have had on contemporary thinking. Uranus was the first planet to be discovered in modern times. Each of those already discovered is visible to the naked eye and were known even to the Babylonians. Neptune's discovery doubled the size of the solar system, and, at the same time, made Earth, and thus all the achievements of humanity, shrink down to tiny speck, just one more, orbiting our Sun. Furthermore Hershel recognised that some of what were thought of as nebulae, clouds of cosmic dust, were other galaxies, and the recognition of this could only serve to reduce the sense of humanity's importance, and maybe question belief in a deity.
Hershel's first obsession was cataloguing double stars – pairs of stars which appear to be close; some of these he recognised as being binary stars, a term and distinction which is still in use today. Meanwhile his sister, who at first accepted the role of his assistant, noting down his observations in the light of the kitchen while he sat at his telescope in the garden, began her own quest, and today is celebrated for her work on comets, one of which bears her name.