I found myself looking at antiques. In an antique shop. The owner, hidden behind a wall of stacked furniture, was observing me in a large mirror. At first I mistook his reflection for him, and nodded a greeting. When I realised I was addressing a reflection, I peered around the barricade and smirked. He responded with minimal interest. I was a prospective customer, but he could barely acknowledge me. I was interested in the Windsor chair, but it was too late, I couldn't overcome my embarrassment now, and walked directly out. This was Abergavenny, a place I tend to look down upon.
I look down upon Abergavenny from the three mountains that surround it. The Sugar Loaf, The Skirrid and The Blorenge. The last of these has an ascent so steep it is almost vertical. You climb on all fours, but standing up. The summit of the Blorenge can also be reached by road, which dilutes the achievement a little, but up there, with lungs screaming for air, this is what you get.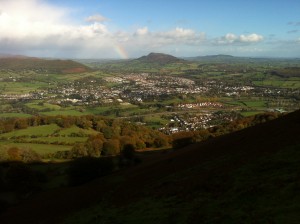 The Skirrid can be seen at the foot of the rainbow, and at the foot of the Skirrid, is The Walnut Tree Inn. I love The Walnut Tree.
I fell over on the Skirrid, a long time ago. I thought I had broken a rib. On presenting myself at A&E  at the Royal Gwent Newport, and complaining of chest pains, I was immediately rushed into a cubicle and sensors placed on my chest.
Only the night before I had been drinking in the Church House, a pub at the Handpost, just outside Newport. The Slowboat Takeaway is just up the road, and above that is a small flat where Green Gartside used to live. I used to see Green wandering the pavements. He was quite famous then, and I never understood why he had chosen to live back in Newport. I don't think he ever wrote a song about Newport, or the Slowboat.
I was drinking alone  in the Church House, a pub near the Handpost, just outside Newport, when a bloke slumped down next to me and asked if I could buy him a drink. He was in a bit of a mess, pissed, but seemed  good company.  I bought him a pint, and he began telling me how hard his life was, how he couldn't hang on much longer. He told me he was doctor at the Royal Gwent, and although I had no reason to doubt him, I did. He looked bedraggled, and after all, he did ask me to buy him a pint.
I'm covered in sensors, wondering why no one will just take my word for it, that this isn't a heart attack, I've just done something to my rib, but the ECG is blipping away and the doctor rushes in, unshaven, squitty eyed, and it's him, the guy I was drinking with night before. He didn't recognise me, of course. I was going to tell him about our encounter, but decided not to.
The rib took months to heal, and I can't think of the Skirrid without thinking of that fall. The day of my fall I'd climbed the hill with my parents, neither could manage it now, they are both approaching ninety, and live just around the corner from the Church House.  I was there just last week. My mother is very unwell, and my dad cares for her full time. He's usually very perky, and full of rambling, digressive stories. But last time I saw him he looked weak and frail and was sorry for himself.  It was his 87th birthday.
"I've lived long enough," he said. I gave him a hug when I left. It was hard.
But today I'm in Abergavenny, making my way to the car park after walking out of the antique shop. I get in the car, drive home. On the radio Iain Sinclair is talking about WG Sebald. I love both writers. Sebald's Austerlitz is one of my favourite books.  I prefer it to The Rings of Saturn, which many people consider his masterpiece. Sebald was a walker, and his books are often ramblings in both senses. Sinclair spoke of Sebald devotees who try to retrace his steps and fail. Sebald was a storyteller, Sinclair reminds us.